About the Artist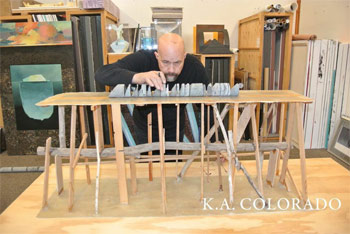 International artist and sculptor K.A. Colorado has spent three decades working in various climatic conditions throughout the world, using ice and snow as both a medium and subject, and portraying environmental, climate, and polar concerns and significance through his art.
Mr. Colorado recently returned from working in the Antarctic by invitation of the Argentine Ministerio de Relaciones Exteriores y Culto, and the Dirección Nacional del Antártico (National Institute for Antarctic Relations) of Argentina. During his residency in the International Cooperation Art Program, Mr. Colorado was one of only a few artists selected from around the world to perform art installations on the Antarctic continent. While in Antarctica he visited several scientific and historic bases, and completed a series of five "Art In Antarctica" groups of works involving sculpture, on-site installation, photography, and video.
As a sculptor and visual artist working exclusively in ice and snow pack particular to the Arctic and Antarctic regions, Mr. Colorado has been featured in many exhibitions and scientific conferences worldwide over the past two decades. His upcoming presentations include participation in the Scientific Committee on Antarctic Research (SCAR) XXXII International and Open Science Conference (13 - 25 July 2012, Portland, Oregon, U.S.A.), exhibition in the Antarctic Art and Culture International Conference & Festival IV (5-9 September 2012, Buenos Aires, Argentina), and solo exhibitions at the Provincial Museums of Tierra Del Fuego (September and October 2012, Ushuaia and Rio Grande, Argentina).
In addition, K.A. Colorado is Chairman of the Russian Perm World Cup International Competition, and Founder of its organization and its annual Ice and Snow Sculpture Competitions, which he has helped organize for the past 20 years.  
From 2011 to 2012, K.A. Colorado was invited by the Port of Portland (Oregon, U.S.A.) to exhibit a large paintings installation on climate, Arctic, and ice conditions at the Portland International Airport, which he dedicated to the victims of the March 2011 Japan Tsunami.  Currently this large-scale exhibition is installed in the main terminal lobby of the airport where it is viewed by travelers and visitors alike.  
Mr. Colorado has also had extensive artistic collaborations with scientists throughout the world on Polar themes, and has created a proprietary series of Ice Core Sculptures which portray scientific dialogue on climate.  This body of work involves international dialogue with scientists and associated professionals working in the climate and Polar studies fields.  To date K.A. Colorado has completed approximately 90 simulated Ice Core groups in actual scale which contain the thoughts, lectures, writings, findings, and geological material submitted to him by scientists and professionals for inclusion in his art, and presented as fine art that communicates the science of Arctic and climate conditions.
In 2010 Mr. Colorado was selected and participated as a speaker and presenter in the TED events, in which he spoke on Arctic and climate issues of significance, and was invited to exhibit his art work.
While working internationally, K.A. Colorado maintains a studio in Troutdale, Oregon, U.S.A., which contains works that are environmentally themed and focus on climate issues and the Polar regions. Housed in this large studio are some 400 three-dimensional and two-dimensional works created by K.A. Colorado and available for viewing.
Mr. Colorado's extensive experience in Polar and ice conditions art and science is unsurpassed, and his works of art on environmental, climatic, and Arctic concerns are valuable in their significance of message and artistic beauty.
K.A. Colorado –Art and Science Series and Exhibitions
From working in Antarctica and the Patagonia ice fields, to creating snow sculpture in Valois, France, to imbedding one of his "Kyoto Protocol" Ice Core Sculptures in the cauldron of a volcano in South America, K.A. Colorado has performed art applications all around the globe, and created art that has dealt with the global conditions associated with climate change. 
His artwork has taken him atop precarious icebergs, alongside rugged mountains in alpine regions, and into the hot desert. He has fabricated steel pyramids in Culiacan, Mexico, carved monumental stone in the Czech Republic, and created the first-ever kinetic snow sculpture which was unveiled in Perm, Russia near the Ural Mountains.
Invited by the Arctic Scientific Research Library at CADIC-CONICET in Ushuaia, Argentina, at the Tierra Del Fuego, by noted geologist and glaciologist Dr. Jorge Rabassa, K.A. Colorado has studied and visually captured icebergs in his paintings and sculptures to depict the changing glacial conditions in the Antarctic.
As the only artist invited among a group of renowned scientists and climatologists from around the world, K.A. Colorado participated in the International Conference on Hydrometeorological Security held in Moscow, Russia in September 2006. His paper on Aesthetic Considerations and Implications of Snow Mass and Texture Changes was published and posted at the Conference, which was attended by climatologists and geologists whose areas of expertise include the Polar and Arctic regions.
And selected by special invitation of the Antarctic Institute of Argentina to create art installations in Antarctica, K.A. Colorado has completed five groups of Antarctic Art Series works, including "Banquet in the Antarctic", "Pink Hearts on Ice", and "Caution Antarctica". His artwork performed in Antarctica was documented by a documentary film crew whose soon-to-be-released film will feature K.A. Colorado and his art installations on-site in the Antarctic.
K.A. Colorado is the creator of the Ice Core Sculpture Series featuring ice core sampling replicas imbedded with scientific writings, professional text, geologic material, and animal DNA from throughout the world. His several series of Ice Cores feature international dialogue on climate involving such notable individuals and experts as Dr. James E. Hansen of NASA (U.S.A.); Dr. Jorge Rabassa of CADIC-CONICET (Argentina); Dr. Alexander A. Vasiliev of the Hydrometeorological Center in Moscow (Russia); Dr. James P. Delgado of the Vancouver Maritime Museum (Canada) and NOAA (U.S.A.); Dr. John J. Clague of Simon Fraser University (Canada); Neil J. Weenink, Engineer and Lecturer (Australia); Lynne Cox, Arctic and Antarctic long-distance swimmer (U.S.A.); Col. Ron Smith, former commander of the U.S. Scientific Base in Antarctica (U.S.A.); and Morteza Anoushiravani, Director of Global Water Resources for the humanitarian organization Mercy Corps.
Invited to exhibit and speak worldwide, K.A. Colorado has exhibited his artwork in Vancouver, B.C., Canada; Los Angeles, California, U.S.A.; St. Petersburg, Russia; Moscow, Russia; Lima, Peru; Barcelona, Spain; Toronto, Canada; and St. Moritz, Switzerland. His recent exhibitions include "The Cow on the Iceberg" series of paintings, sculptures, and lectures at the West Vancouver Library in Canada; a TED talk and art exhibition at the TED Conference in Monterey, California; the Earth Art Show international exhibition curated by K.A. Colorado in Troutdale, Oregon; and a solo exhibition entitled "Polar Dialogue 2009" at the LA Artcore contemporary art museum in Los Angeles, California. He has also created historical murals on permanent exhibition at educational and institutional sites in the cities of San Francisco and Los Angeles.
K.A. Colorado's international projects link countries with the global scientific and arts communities, and explore issues and topics regarding climate and environmental concerns. These projects include:
The Pemberton / Mount Meager land slide geological event field study, August 2010, in conjunction with the Simon Fraser University of Vancouver, Canada; The Castle Canet-en-Roussillon Ice Core Project, May 2010, in conjunction with Canet, France; and the Volcano Ice Core project in several corresponding countries, including Chile, Argentina, and Africa.
K.A. Colorado has organized and judged international snow competitions throughout the world, and founded the Winter Arts Festival and Ice and Snow Competition in Perm, Russia (Western Siberia) in 1995, an annual event that continues today. Over the past decade, he has traveled to the Antarctic, where he has been invited by the Arctic Scientific Research Library to continue his work in depicting ice and icebergs in his art.
Recipient of the Los Angeles Contemporary Art Museum LA Artcore Award in 2008 as "Artist of the Year" in recognition of his prolific work in climate and environment-themed art, K.A. Colorado's work has joined science and art together aesthetically, conceptually, and intellectually, and continues to explore the historical and human ramifications of our changing climate and environment. 
K.A. Colorado's "A 60-Second Time Lapse of the World" paintings installation, and "Ice Cathedral" painting exhibition, can currently be seen on public display at the Portland International Airport, sponsored by the Port of Portland, Oregon, U.S.A.